Shakespeare rightly said, "If music be the food of love, play on!" Mississauga Piano Studios offers violin lessons for kids, adults, and upcoming musicians to unearth their hidden musical abilities to express themselves. Our expert violin instructors know how to uncover musical talent, and teach even the most difficult students. Our violin teachers offer virtual lessons, private and in-studio lessons in various cities near you.
Get Best Violin Lessons in Mississauga & Beyond
At Mississauga Piano Studios, we usually follow the Royal Conservatory of Music curriculum for advanced students, for beginners, we opt for the Suzuki method. Whatever options you prefer, we provide flexible and musical repertoire through violin lessons that unite individual goals, music theory, and musical gifts.
What Sets Us Apart from Others Music School?
Every violin teacher at Mississauga Piano Studios is trained and recruited to teach students of all ages and kinds to hone their skills to the best of their abilities.
We offer violin lessons at very Economic lesson fees.
We provide free violin lessons for beginners at first. If you like our teaching program, then you can enroll in any lesson program of your choosing.
Lessons can be scheduled on any day of the week, including the weekends.
Violin lessons can be organized at the comfort of your home via WhatsApp, Zoom, FaceTime due to Covid-19 protocols, or at our studio.
Practice is the key to perfecting any skills. Our violin teacher will make sure you practice the right way with patience.
Learn to Play Violin
With violin, you can string happy, sad, or ecstatic tunes taking your audience on an emotional ride. Mississauga Piano Studios offer violin lessons for kids as young as 4 and up to all age. Develop your musical gift within your budget at any locations you are based.
Why Violin Music is Good for You?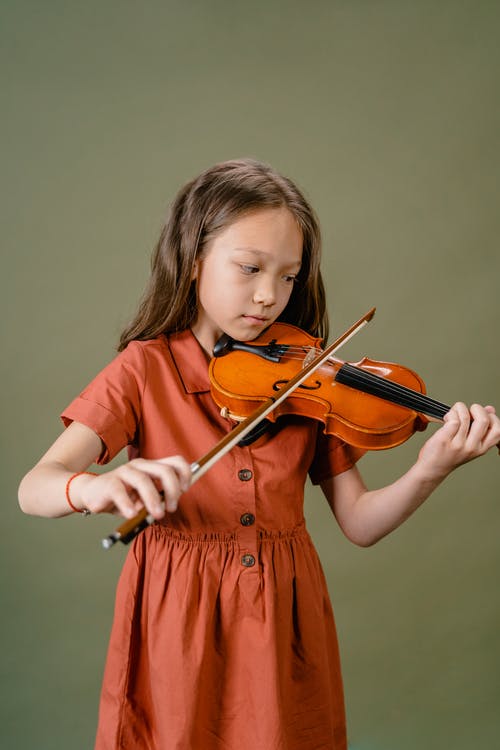 Benefits of kids: Let's look at why your kids need violin lessons for kids :
Development of social skills and inclusivity
Improving fine motor skills
Improved memory and longer memory span
Healthy mental well-being
Benefits of teens: Teens can choose violin lessons for beginners because
Channel your emotions in the right way and express deepest emotions through musical gift
Will look good on your college or university application.
Your breathing and physical posture get proper.
Brings a sense of teamwork, resulting in better performance in career and a chance to play in an orchestra professionally.
Benefits of adults:
Reduction of anxiety and depression.
Starting afresh in later life for positivity, going back to performing for the audience.
Loiters early neuron deterioration.
In-Studio & Online Violin Lessons
Mississauga Piano Studios provide violin lessons in Mississauga West, Mississauga Central, Mississauga North, Mississauga South, Mississauga East, Oakville Central, Oakville West, Brampton, Toronto, Malton, Milton, Burlington. We offer virtual classes well. We organize regular musical shows, concerts for our students to get comfortable playing for the audience professionally and overcome their shyness to express their musical inclination.
Other Lessons
We also provides private music lessons in:
---
Piano
Violin
Saxophone
Cello
Vocals
Drums
Clarinet
Trumpet
Guitar
Flute
Keyboard
Music Theory
---
Group lessons are also available!
Fees
We have some of the very best prices that the GTA has to offer! We care about your budget and will always strive to make violin lessons affordable for everyone.
Schedules
Music lessons are available 7 days a week, subject to the availability of our music instructors. If you request it, we will strive our best to make it happen!
Violin Lessons