Teaching piano can be a tough task. There are a lot of challenges involved. People have a shorter attention span while the piano requires intense concentration. Young piano students often face the problem of learning not because their piano instructors are bad but because they are of a fickle age. And due to that, music teachers often face criticism from parents about their children not learning anything at their piano lessons.
But such is not the case. As piano instructors, we must understand that every student is different and has unique abilities. Every student learns at their own pace and in a different manner. Dealing with students is important to help them learn and give the right push that will grow their piano career. But music teachers should never give up on their students.
In this article, we will focus on the steps that music teachers can take to transform their difficult piano students into their favorite ones. It might take some time and effort, but since the parents who searched for "piano teacher near me," and found you, they must trust your capabilities. However, you should also understand the difference between the learning curve of each student.
Steps to turn difficult piano students into favorites
The traditional approach of screaming at students doesn't work. When things don't go according to the plan for your piano lessons, you need to stay relaxed. Even when the students haven't made any progress in a while, it is your job as piano instructors to encourage them and keep them going. Here are the steps you can take to transform their learning capabilities –
1. Set reasonable expectations
Many students can't perform on the piano under too much pressure of expectations. Sometimes, as a piano teacher you might have expectations that the student isn't able to fulfill. In such cases, the performance hampers too much.
You must understand that not every student can deliver on your expectations. Since every child has a different learning curve, your expectations should also be different. You must have expectations that are realistic according to the talent and learning abilities of every student.
By setting long-term goals, you will give students an idea about the direction in which they should move ahead. You can assess the progress of your piano students on a weekly basis and make changes to the teaching plan as they grow in their piano journey.
2. Understand their needs
One of the most important factors in teaching the piano is understanding the student's needs. You must learn that every student will have different requirements for playing the piano. While kids need learning, they also require special attention to their needs.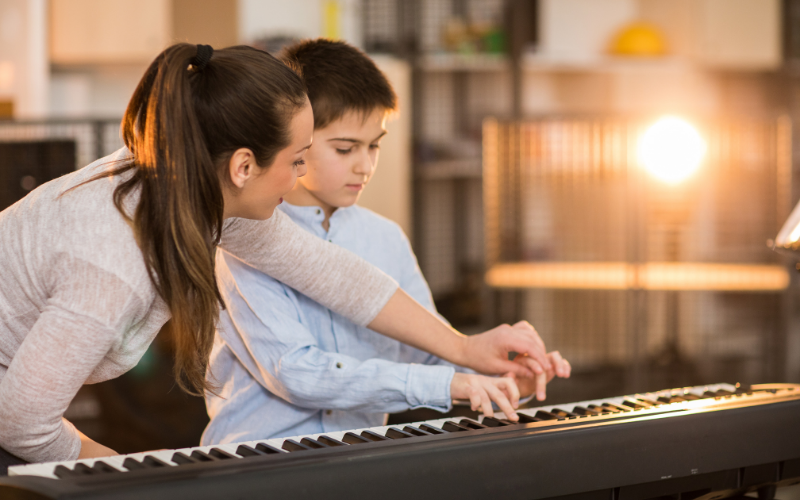 You must answer the basic questions that will create the right environment to play for the students. Every student has unique performance needs when it comes to playing the piano. They also trust you understand their needs and give the best possible teachings.
Also, music teachers must identify how each need affects the behavior of an individual. They must learn a student's specific needs and try to meet them as soon as possible.
3. Prepare an uncertainty plan
Predictable outcomes and routines are admired by all piano students. But you must always be ready with an action plan if things go awry. In the initial stages, there will be a lot of challenges as people would take time to adjust to your schedule.
Now, every time a lesson gets derailed, you must have an action plan to bring the student back to their learning. Since they opted for you when they searched "piano teacher near me," it is your responsibility to create an environment where they feel ready to learn the piano.An uncertainty plan will help to bring students back on track when they wander around.