High Standard Piano, Guitar & Flute Lessons in Mississauga
Interested in becoming a student of music? Learning to play an instrument comes with a set of challenges. That's why you need to join the best music school in Mississauga to become a pro at bringing rhythm to your life. Whether you are a beginner, intermediate, or advanced learner, we provide the right music lessons in Mississauga for all levels of expertise.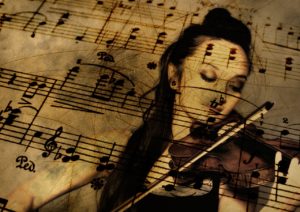 Our teachers comprise professionals in piano, guitar, flute, violin, saxophone, and other instruments. They make the learning process enjoyable and ensure that you get a good grip on whatever you are learning. We also help you prepare for performances – be it school or the college fest.
Become adept in any instrument of your choice with our excellent instructors. Take advantage of our flute lessons and play the soothing tunes that entice everyone. Whether you want to join a band, get the attention of your friends, or just play for fun – we will help you learn any instrument for whatever reason you want. Mississauga Piano Studios also provide piano lessons in Mississauga, apart from violin, flute, and saxophone. Our teachers are available both online and offline to help you make the most of your music journey. We build a solid foundation of music so that you can quickly learn to play amazing tunes on your own.
Best Music Lesson School in Mississauga
We are the leading and most trusted music lesson school. Our courses are designed to provide the utmost flexibility to every student and help them develop their musical abilities. We have a different guitar, piano, violin, and flute styles for children and adults. Our courses are structured in such a manner that any person of any age group can learn music easily. When you want to learn music that lasts with you for a long time, you need to go to the best music school in Mississauga – and we are leaders in teaching students how to master any instrument.
Find and nurture your musical talent if you are a beginner. Start learning any instrument you want in our class and understand what you like the best. We provide the best Mississauga piano lessons to those interested in making classic compositions that people just love to listen to.
We also provide violin lessons and flute lessons to help you build the musical capabilities of playing soothing music that will captivate any type of audience. For those interested in playing heavy, bass-filled music, we offer saxophone lessons to help them get into the Jazz groove. Our teachers ensure you get the best out of each class.
Benefit From the Experts in Musical Teaching
Learn what you need to in music with our experts in music. We have the best experts who provide music lessons to help you overcome your fear of learning a musical instrument. Boost your self-confidence by becoming an expert in music in no time. We have professionals at work who can also provide online classes if you live in a faraway location. They are the leaders in the industry and guide you through the process of learning the instrument with ease. We ensure that no student is pressurized to learn more than they want to. Our teachers match your pace and build a wonderful lesson plan.
Whether you want to take piano lessons or are looking for a private piano instructor – we have the right teacher for you. We are guided by the internationally renowned Royal Conservatory of Music, which helps us meet the highest standards of music. Our instructors ensure that they provide the best musical education to each and every student. We are pros in teaching students at different skill levels, and our experts pay special attention to beginners. Become adept at playing any instrument with teachers who have real-world musical experience.
Why take music lessons from us?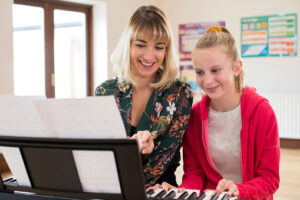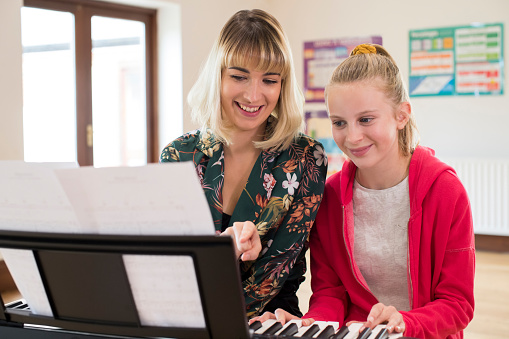 Because we want to see you succeed as a musical genius. If you have the slightest bit of talent or want to develop it from scratch, we will help you do it. There are countless reasons to choose, but the primary one is that we will help you to reach your full music potential. Here's why you should consider our violin, guitar, flute, and piano lessons –
Get a free lesson and understand how we teach. Discover our process and experience the innovation and unique teaching style.
Our experts have years of experience in training students of all ages. Whether you want to learn or it's your children, we can teach everyone.
We have experts in guitar, flute, piano, violin, and saxophone lessons. Learn any instrument you want without any hassle.
We are the best music school with certified and highly trained teachers. They love music and teach students in a way that is human and real.
We offer affordable music lessons, which are extremely flexible as well. Every piano instructor ensures that you learn at your own time and pace.
We have 125 certified and expert instructors who give flute, piano, and violin lessons in Mississauga. Our teachers visit your location and provide the best learning experience. We are especially adept at dealing with difficult students and helping them become better with a consistent focus on practice.
For more inquiries, call on 416-543-2022 or write us at info@mississaugapianostudios.com.
Music School Mississauga