Drum Lessons in Mississauga
Want to learn how to drum or fine-tune your already fabulous drumming skills? Then, Mississauga Piano Studios, the best music lesson school in Mississauga, is here to help you. Unlock the true music wizard within you with guidance from the best drum teachers who have years of experience in making drumming legends.
Drum Lessons for Beginners
Our beginner drum lessons cater to those who have a passion for learning to drum. You do not require any level of prior knowledge to belt out masterpieces. We start by getting rid of the fear associated with first-timers and developing confidence in their talents. We sincerely believe that anyone can achieve any talent they wish to acquire through diligent practice and expert guidance.
Text / Call For Your Free Lesson
Where to get Drum Lessons?
At Mississauga Piano Studios! It doesn't matter if you are searching for drum lessons Mississauga for 5-year-old near me or drum lessons for adults near me, we have got you covered. We also provide online drum lessons to get you started from the comfort of your home.
Our drum lessons in Mississauga will help you understand your true potential and guide you through every step of the way. We are your huge admirer right from day one!
Contact Us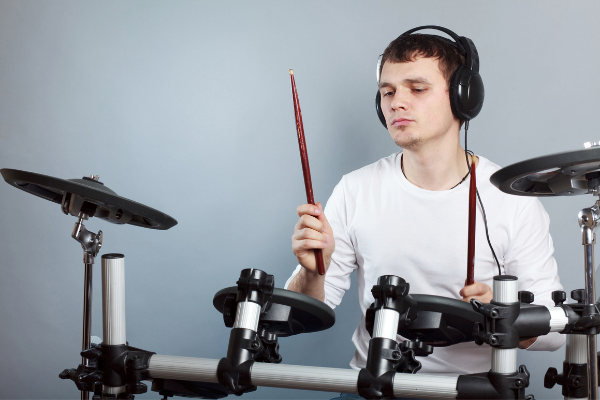 When to start Drum Lessons?
The best age to start drum lessons for kids is between 5 and 7 years. This is when they have more mental control over the instrument they play. However, for adults, the best time is whenever they wish to learn the skill.
Drumming is not just a musical skill but also something that tones your mind and body. It involves developing coordination between your body and mind. With the best drum teachers in Mississauga, you can also develop a holistic understanding of different genres of music and the styles involved in playing the instrument. Hence, whenever you are ready, our drum lessons in Mississauga are eager to accept you!
Type Of Drummers
Just like the various types of drums available, there are various types of drummers. Choosing between them happens in the latter part of the beginner module. However, it is important for you to know what they are before getting into the beginner drum lessons Mississauga.
How To Play Drums?
Dedication, consistency, and practice are vital for you to learn drumming. To play drums, you need to initially start with beginner drum lessons Mississauga. When you choose us, the best drum teachers in Mississauga will be by your side helping you understand every aspect of drumming.
We start by helping you understand the drum notation and basic drumming patterns.
Then you learn the rudiments of theory to get a better understanding.
Now, we help you find the perfect coordination to handle the sticks.
Moving on, you will focus on determining the technique that suits you best.
Finally, continued practice in various genres makes you a true drummer.
Why Choose Mississauga Piano Studios for Drum Lessons?
Mississauga Piano Studios is the best music lesson school in Mississauga which focuses on fast and holistic learning of the musical instrument.
20+ years of experience in the field.
Guided by the Royal Conservatory of Music.
In-home studio and virtual one-on-one classes.
We live for the art you learn!
Are Drum lessons worth it?
Yes! They absolutely are. Without proper lessons, you might never understand the simple techniques that let you find your unique style. It will also help you have expert guidance and an evaluation perspective of a drumming master. Every drum lesson in Mississauga is indeed truly worth it.
Drumming FAQ's
Typical drum lessons in Mississauga cost you anywhere between $30 and $50 per hour. However, based on the type of lesson you choose and the availability of the instructor pricing may vary.
You can get online drum lessons from us in the comfort of your home. Or choose to play in the presence of masters at our in-home studio. You can get drum lessons for 5-year-old near me and also drum lessons for adults near me at the same location.
For absolute beginners, you need at least three months to be able to grasp all the basic concepts of drumming. To play with bands and learn how to play along with the music, you will need to practice for six months or more.
Want to get drum lessons from the best drum teachers in Mississauga? Then, Mississauga Piano Studios is your finest option. You get to interact with several experts in the field who teach enthusiasts of different ages.
Get your music career going today by calling us at 416-543-2022 or by writing to us at info@mississaugapianostudios.com.
Fees
---
We have some of the very best prices that the GTA has to offer! We care about your budget and will always strive to make violin lessons affordable for everyone.
Schedules
---
Music lessons are available 7 days a week, subject to the availability of our music instructors. If you request it, we will strive our best to make it happen!
Main Facility
Royal Conservatory of Music Examination Facility:
3075 Ridgeway Drive unit # 19, Mississauga
(Ridgeway & Dundas)
– All Instruments
Mississauga North
Derry & Mavis (Guitar)
Derry & Mavis (Piano)
Oakville Central
Dundas & 8th Line
Winston Churchill & Sheridan Garden (Piano)
Upper Middle & 3rd Line (Piano)
Brampton
Hurontario & Mayfield (Piano)
Creditview & Steeles (Piano)
Queen & Mississauga Road (Piano & Vocals)
Chinguacousy & Sandalwood (Violin)
Mississauga West
Winston Churchill & Eglinton – All Instruments
Winston Churchill & Britannia (Piano)
Thomas & EMP (Piano)
Thomas & 9th Line (Piano)
Britannia & 10th Line (Piano)
Winston Churchill & Burnhamthorpe (Piano)
Mississauga South
Clarkson & Truscott (Piano)
Mississauga Road & Dundas (Piano)
Oakville West
Dundas & 3rd Line (Guitar)
Burlington
Malton
Mississauga Central
Mavis & Dundas (Piano & Trumpet)
Mavis & Paisley (Vocals)
Confederation & Burnhamthorpe (Piano)
Eglinton & Creditview (Piano & Guitar)
Eglinton & Mavis (Piano & Violin)
Terry Fox & Bristol (Violin)
Mavis & Bristol (Drums)
Burnhamthorpe & The Credit Woodlands (Flute)
Hurontario & Eglinton (Piano)
Mississauga East
Tomken & Burnhamthorpe (Piano)
Dixie & QEW (Piano & Voice)
Dixie & Burnhamthorpe (Piano)
Milton
Toronto
Drum Lessons